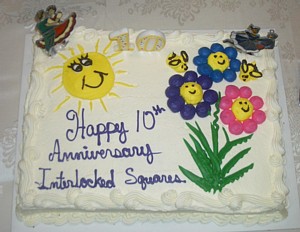 Interlocked Squares was created in 1997 through a merger of Top 8's, a C-1 club that danced Thursdays at Anderson School in San Jose, and Almaden Squares, a C-1 club that danced Fridays at Almaden School in San Jose.

Initially, these two clubs adopted a schedule of two nights per month at each venue (Anderson on 2nd and 3rd Thursdays, Almaden on 1st and 4th Fridays). After several years, dancing settled on Thursdays every week at Anderson School.

In 2003, the club moved to Collins School in Cupertino.

In January 2005 the club switched to Hyde Middle School in Cupertino as its main dance location, with various nearby facilities serving as substitute locations especially during the summer.
---
(This section under construction - more details, photos, etc. welcome!)